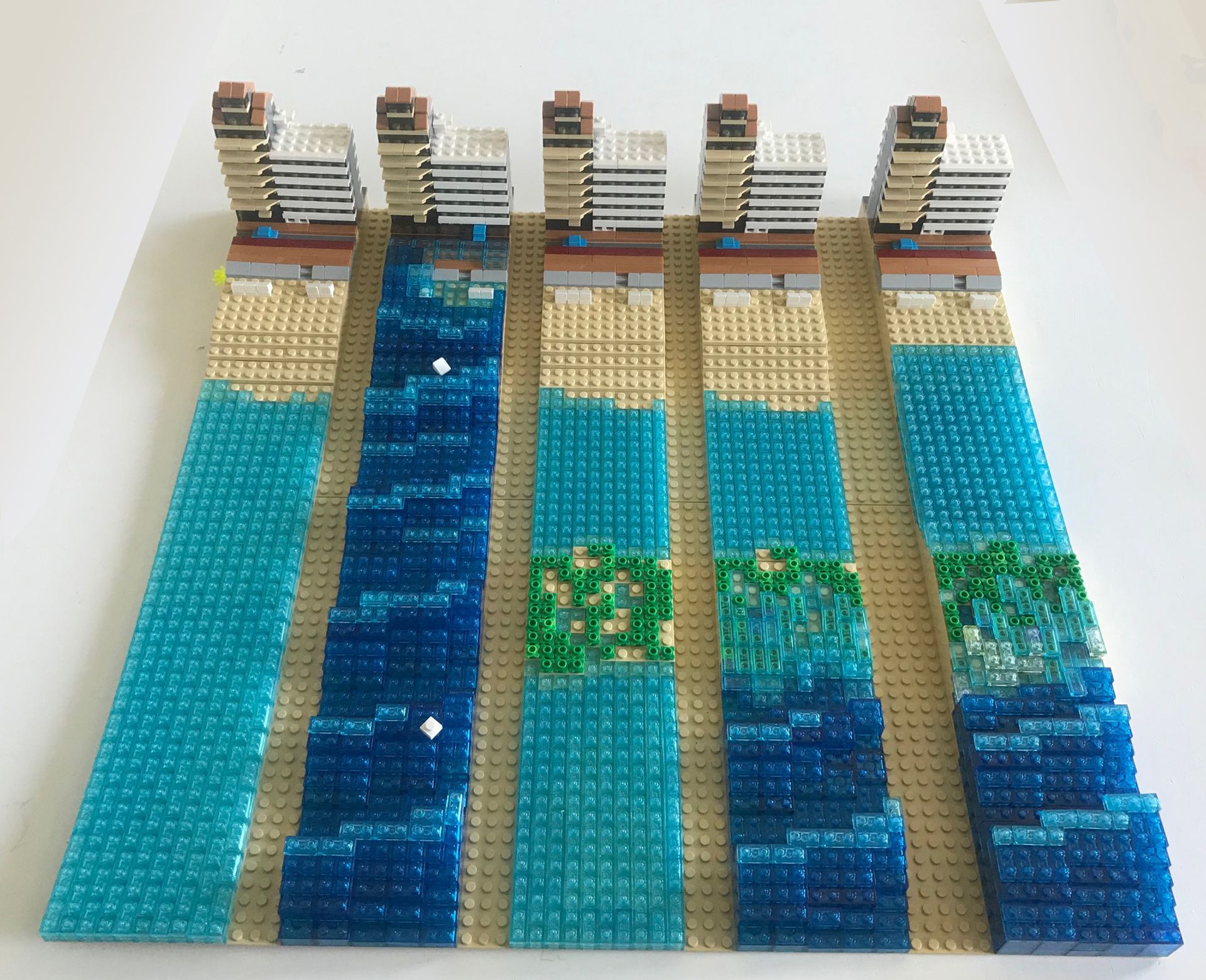 Living in the 21st century comes with its challenges regarding climate change. To help change the world for the better, Amazings worked together with Technopolis, the Flemish experience centre for science and technology, to create Science & Stones, an exhibit with LEGO® bricks. Every month, you receive exclusive behind-the-scenes information about the creation of one of the artworks.
Salt Marshes
Rising sea levels are certainly a cause for concern. Because what might happen if the sea level rises about a meter higher than the current state and a storm approaches? The threat of flooding along the coast and in river deltas is rising. But there might be good news!
In the deltas of rivers, a combination of flooding strains and marshes can prevent the worst. Salt marshes are vegetated sand banks which can subdue waves and store water. What's even better is the fact that when the sea level rises, most marshes will grow by themselves and rise to the same level. Of course it should have a natural base in order for the salt marshes to grow, because they mainly grow in shallow bays and estuaries.
During this project, we worked with Stijn Timmerman from the research group Ecosphere at the University of Antwerp. One of the main research themes of Ecosphere is 'integrated water management'. Timmerman is a Geographer studying impacts of global change on coasts and river landscapes, and how ecosystems and human society can mitigate and adapt to global change. His research involves studies on nature-based mitigation of climate impacts, such as flood risk reduction by marshes and mangroves.
In the Science & Stones exhibition, we incorporated the idea of salt marshes as a solution to risk for flooding (with and without) rising sea levels in our LEGO sculpture 'Salt Marches'.
Read the previous article of our Science & Stones exhibit here.
Would you like to see this work in person during the exhibit Science & Stones at Technopolis?
Practical Information about Science & Stones
🗓 When: From the 2nd of April until the end of July
📍 Where: Technopolis: Technologielaan 1, 2800 Mechelen
✉️ Tickets available here or at the ticket booths
💶 Price: Included in the standard Technopolis ticket
BUY YOUR TICKET(S) HERE